Caring Masculinities in Action - CarMiA
The project, funded by the European Union, aims to prevent Gender Based Violence (GBV) among young people by promoting critical reflection on traditional gender roles and by supporting non-violent concepts of caring masculinity in working with boys and young men. Coordinated by the Istituto degli Innocenti, it has partners in the following countries: Austria, Slovenia, Bulgaria, Germany and Spain.
INDEX:
GENERAL OBJECTIVE
SPECIFIC OBJECTIVES
ACTIVITIES
PARTNERS
PRODUCTS AND MATERIALS
EVENTS
RESOURCES
GENERAL OBJECTIVE
To prevent gender based violence (GBV) among young people. We aim to foster a critical reflection of traditional gender roles and support non-violent concepts of caring masculinity in work with boys* and young men*.
SPECIFIC OBJECTIVES
To identify current knowledge needs of teachers, educators, social workers, and professionals regarding their perceptions of masculinity and on prevention of GBV.
To develop methods and techniques for and together with teachers, educators, social workers, and professionals aimed at nonviolent identity formations of young males.
To foster mutual learning among the partners on innovative and participatory methodologies to work with young people on nonviolent forms of masculinities and the prevention of GBV.
To promote prevention of GBV and care-oriented concepts of masculinities through peer to peer and agents of change activities and through an awareness raising campaign addressed to young people.
To sensitize on impacts of caring masculinities among young people through awareness and dissemination activities to prevent GBV and to foster a Culture of Care at local, national, and European level
The target group of this project is young people between 14 and 27 years old who will act as role models, namely agents of change. Together with their teachers, educators, social workers, and/or professionals they will be empowered to promote alternatives of non-violent conflict resolution, options of caring masculinities, and to rethink male gender stereotypes.
ACTIVITIES
Need assessment and analysis of practitioner´s needs through group discussions with professionals and with young people.

Mutual learning seminars with the aim partners to exchange about practices of promoting non-violent masculinities and caring masculinity among youth

Training with professionals and young people who are thought to become Agents of Change

Workshops run by young people for young people (peer-to-peer approach) in schools, youth and sport clubs, as well as in other youth organisations

Awareness raising campaign about harmful social norms of masculinity in schools, youth clubs and other youth organisations
PARTNERS
Istituto degli Innocenti – Italy (coordinator)
Verein für Männer- und Geschlechterthemen Steiermark – Austria
The Peace Institute –Slovenia 
Dissens - Institut für Bildung und Forschung e.V. – Germany -
Centro Studi e Politiche sulle Donne – Bulgaria
Hombres Igualitarios -AhigeAndalusia–AHIGE (Spain) 
PRODUCTS AND MATERIALS
National reports, based on the analysis of existing good practices in gender sensitive boys' work, and the needs assessment outcomes and results of the consultations with target groups.
Transnational report identifying the existing gaps in support, available to boys in their nonviolent identity formation.
Online and print training packages that will summarize the training activities and methods.
Workshop Materials for peers - agents of change:
Workshops will be held by young male people for young people in different participating institutions, such as secondary schools, youth clubs, sport clubs in order to promote care-oriented concepts of masculinity and ultimately prevent GBV.
Awareness raising campaigns. Young people involved in trainings together with communication officers will show experiences and outcomes of Workshops.
EVENTS
National awareness raising event/s
European conference gathering national and international experts to discuss the project final results and good practices in partner countries and at European level will be organised by the Italian partner in Florence, Italy.
RESOURCES
CarMiA builds on the results of past studies and European funded projects that involved some of the project partners, especially:
European Study on the Role of Men in Gender Equality

(Scambor et al., 2013) -

BOYS IN CARE – Strengthening Boys to pursue Care Occupations (BiC) -

HEROES® - Against oppression in the name of honour. For equality in Styria.

ResilienceWorks

–

a research based Austrian project, in which approaches and tools to increase resilience against radicalization for youth were developed.

FOMEN - Focus on Men -

Focus on Men - is a research-based gender sensitivity and GBV preventive intervention program for working with men* with international family history (migrants and refugees)
Funded by the European Union. Views and opinions expressed are however those of the author(s) only and do not necessarily reflect those of the European Union or European Commission. Neither the European Union nor the granting authority can be held responsible for them.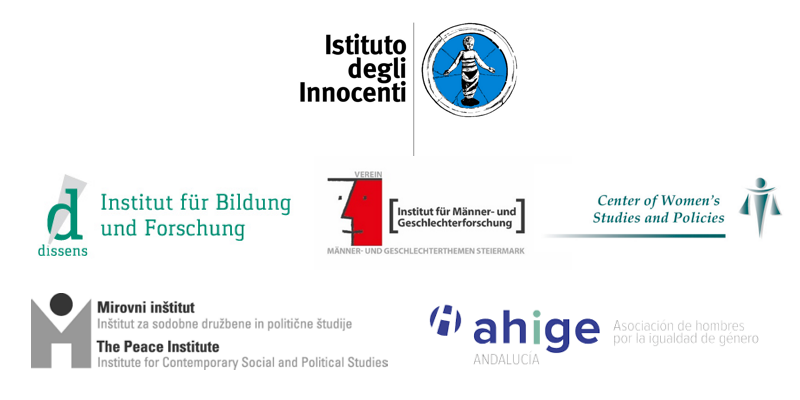 Contacts
Contact person
Raffaella Pregliasco
Role
Responsabile di Servizio
Last update: 10/05/2022 - 14:40